-Photo by Cherry Li
Dr. Ken, in his pole career, has the unfortunate experience of "taking down" 12 poles to date. Once, it resulted in a major injury.
Sadly, this is not a rare story, even from professional brands and correctly installed poles.
As pole equipment standards are incredibly important, and both poor design and improper installation has led to many injuries, he has not been able to support any pole brand that has reached out to him in the past.
Lupit Pole has had some early growing pains as one of the newest pole manufacturers in the industry, but they've continued to grow and improve, and their success is undeniable. Now confident in their commitment to constantly improving the quality of their products, and seeing how they've continued innovate both in safety standards and functional utility, Dr. Ken is proud to announce that he's joined Lupit Pole as an ambassador.
This is alongside names such as:
Marion Crampe, Alberto del Campo, Phoenix Kazree, Marlo Fisken, Sergia Louise Anderson, Peter Holda, and Carly Child.
This page will be devoted to objective reviews of Lupit products, and Dr. Ken will actively seek feedback from the community for suggestions on how Lupit can continue to push the envelope of pole industry standards. To be clear, while Dr. Ken is an ambassador, he is NOT being paid to do these reviews, and you can support him by using the links on this page.
Take a look at Lupit's website and get a 5% discount on your purchases by using the code "NINJA5" on your checkout.
When Lupit first broke the news to me, that they had a new chrome pole without any nickel I was not only skeptical, but confused. It's hard to understand, at least as someone from the US, and it's not something I'm terribly well-knowledged about aside from the functional side of things—so I had to do some research.
See, chrome plated poles are the predominant pole in the US. They are popular because they tend to stick better than stainless steel, and yet they aren't like brass which is painfully hard and makes you smell like pennies afterward. Chrome, however, is not very durable. It can chip, flake, and wear away. In general, as it's a plating, when (not if) it starts to wear, then it becomes a real problem. Why?
Because it exposes the nickel underneath.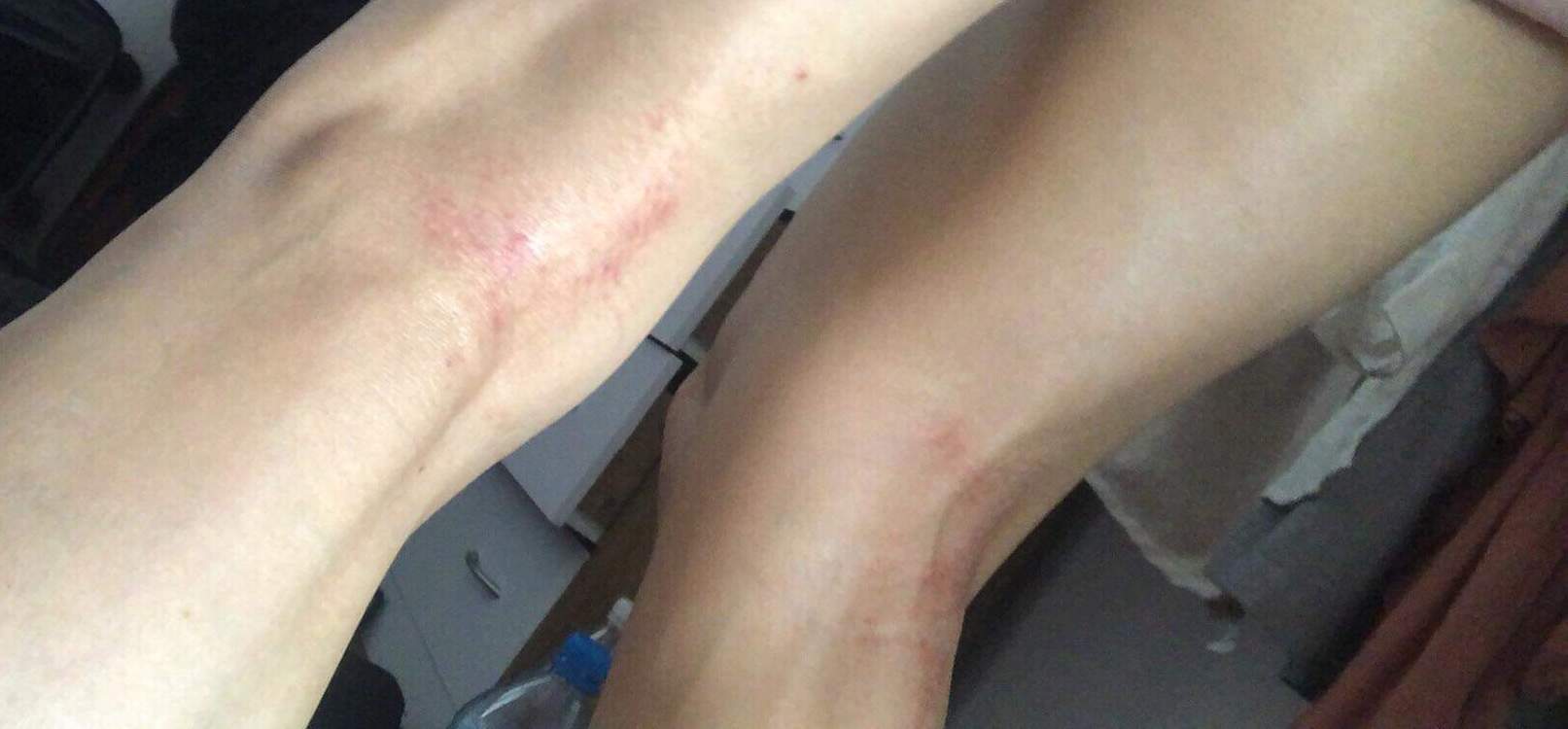 Nickel is the metal usually underneath, and it is used to plate the chrome. It is also a common skin irritant. So many people are allergic to it that it's the most common cause of atopic dermatitis . Itching and flaking and red skin is no fun. Especially in studios where there's high volume, or in poles where the manufacturer didn't design the pole for long-term use, it can be a health-risk. Peers in the professional pole dancer community have reported blood poisoning due to the nickel, and have been hospitalized in the past.
That's why stainless steel is next most popular pole in the US. Stainless steel has nickel in it (and chrome. Chrome is what hardens and creates the corrosion resistance) but it's an alloy, and so the nickel won't be absorbed through the skin. It's hypoallergenic. 
The thing is that stainless steel has several grades and a variety of compositions to it, so even this isn't entirely a definitive term for the type of pole.
"There are over 150 different stainless steels with unique alloying element combinations. These alloying additions improved corrosion resistance in different service environments and determine strength levels, formability, machinability, and other desirable characteristics."
https://www.ssina.com/education/product-resources/alloying-elements/
From personal experience, most stainless steel poles just…are a bit slippery. I can't tell you if it's all stainless steel poles, or just some grades or types, but most the ones I've trained on, I slip on. One of my biggest reservations about Lupit in the past was just how slippery their poles were to me, but this was because they chose to go with stainless steel everything.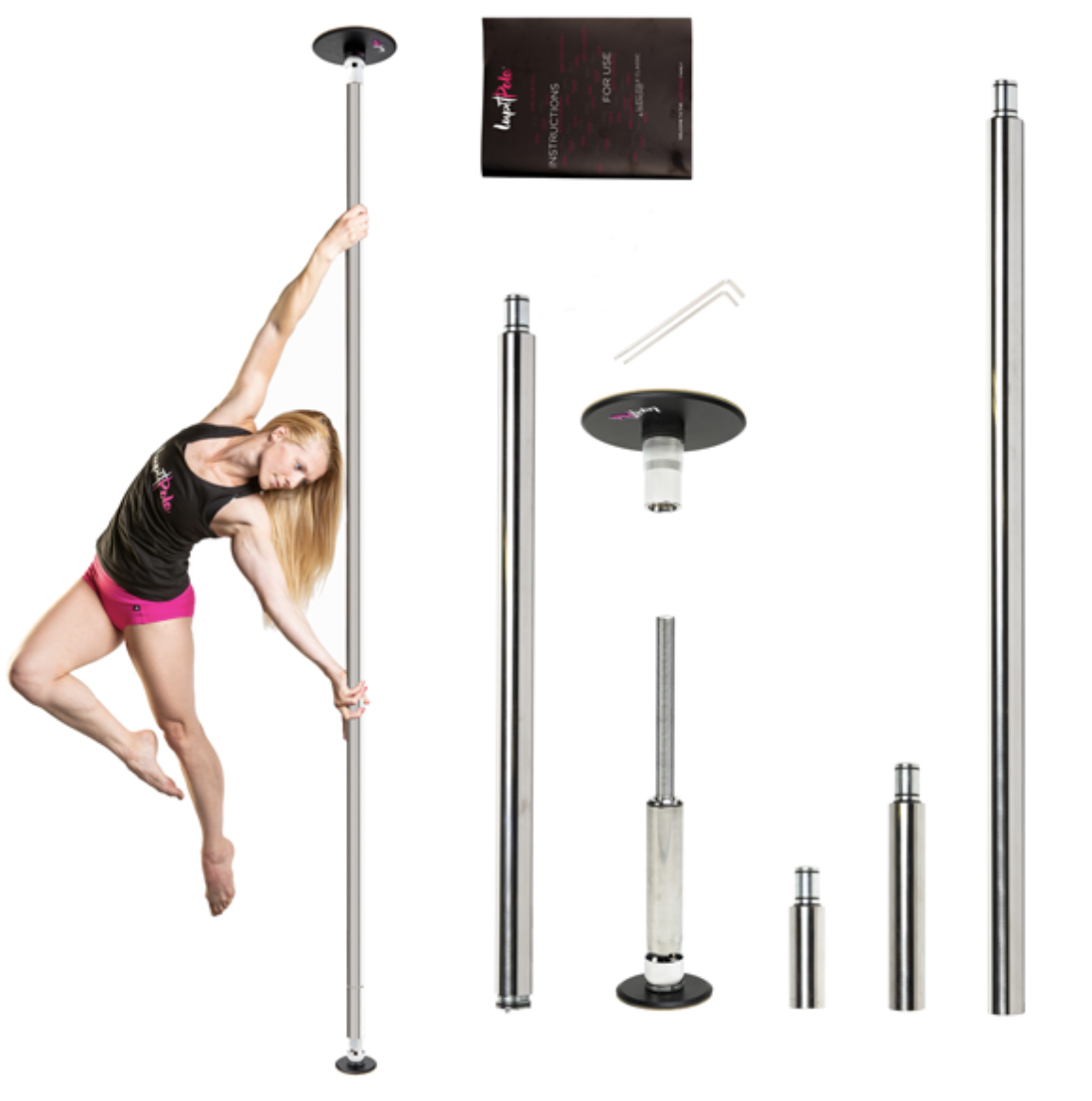 A long time ago, when I spoke to Lupit about this, they said that they didn't release a chrome pole for exactly this reason being discussed: the allergies. They refused to participate in something that was a health risk and they couldn't figure out a way to make a chrome pole hypoallergenic. 
So, stainless steel remained my go-to, even if it tends to be more slippery if only because they last longer, they are more durable, and as discussed, they aren't irritating. Though I love the grip of chrome poles, I also couldn't get on board the health risk, especially as pole manufacturers didn't seem to "care" enough to alter their manufacturing methods.
Each pole dancer has different skin and trains in different climates, though, so take my words on this with a grain of salt on what is sticky.
Now, Lupit has this new pole, and I was very excited to give it a try as soon as I got home from touring.
Prior, I owned the Studio one piece Lupit Pro, which has a quick lock system that is reliable (spin/static), and comes with their AVFAS system that allows for quick installation and takedown, which is the best thing about it IMHO. Having interchangeable floor space as well as pole space is extremely nice.
Anyway, in the US, chrome refers to a plating. The outer surface is pure chromium. Lupit told me that it was some special method that "pulled the chrome to the surface of an alloy without any nickel in it". It was a plating that wasn't through electroplating? This is a big part of my confusion.
Then, they went on to say that it wouldn't scratch or wear down, either, on top of being hypoallergenic.
I'm terribly curious, though I want to respect their rights to trade secrets in creating this unique product. But I do wonder:
Is it pure chromium on the outside? That shouldn't be possible if it's wear and scratch resistant, unless it's an alloy with, perhaps, just a high amount of chromium rather than being pure chromium on the outside. Would that count as just another type of stainless steel, then? In my research, I've run across a term: Chromium steel. It's hard to find more information about this, but it's an alloy. Could this be what it is?
I messaged Lupit this question, and here's there reply:
"Lupit Pole has developed the technology which brings the Chrome finish to the surface of the steel alloy which does not contain any Nickel. So Lupit Pole Chrome poles are 100% Nickel FREE!!! LP Chrome poles are allergy-free and 100% chipping free poles with amazing grip.
"You must understand that the details of the technology are our top-secret and the most valuable asset. The mechanical and chemical treatment of the surface removes most of the other elements from the final layer. Beside Chromium, there are also very little quantities of elements like Iron, Titanium, Niobium, Manganese, and others. 
"This material with such a finish is very stable and resistant to environmental and other chemical influences. We tested it in salty water, acids and it simply does not affect it. The results were actually better than stainless steel 304 we use for our poles."
From this message I can conclude that the Chrome pole is likely an alloy that is just extremely high in Chromium. This is a detail, and probably not a functional difference in terms of utility, but it's important to get the facts straight.
So, how does it hold up to a practical test? I ran two tests, in two different climates. One in an extremely dry climate (Colorado), and one in the bay area of California. Colorado, at this time, is a bit cold, but so in California except with more humidity.
Here's a video of me going through the unboxing, install, and photoshoot, with the resulting images below.
I'll include a TLDR if you would rather just read about my impressions at the bottom.
Breakdown, Review, and Set Up
TLDR
Pros:
The pole does not have any pieces sticking out that could cut you. No screws, no edges, no base plate. Everything is smooth, however, there are some necessary ridges of the cover plate as the pole is pressure mounted and needs to adapt to height.
The pole does grip a little better than stainless steel, for me, which is a relief. I tested this with another poler, and she described it as similar to a stainless steel feel, so you may need to see for yourself. [edit] On longer periods of training, with grip aid, I found the grip to be exceptionally better than stainless steel.
The pole glows in photos, better than stainless steel, which is nice, but we'll see in time if that changes.
There was absolutely no shifting, even when I hit the pole directly with my force on either top or bottom. This is critical to safety because shifting can happen over time without the pole dancer noticing. Trust me. I would know.
The base plate is pretty much non-existent. In many pole brands, the base can get in the way of floor movements by sticking out. This is as minimal as it gets.
The multiple pieces don't have significant give, and the joints between them are smoothly curving inward, which means that in time with pressure, they won't lip and stick out, creating a cutting hazard. Plus, being able to travel with the pole as a compact package is a real benefit.
The pole feels firm, but not hard. In many poles, especially brass, doing dynamic movements has no "flex" and it can hurt when you accidentally bump the pole or hit it too directly when moving. The flex is also nice for rebounding in dynamic movements.
The install was quick and easy, and switching between static and spin is reliable and quick.
Extension pieces come in a variety of sizes, so just by having a few of them, I know I can relocate easily as long as there is a ceiling and floor within height limits under 10' 9".
The spin is very smooth and lasts quite a long time.
Cons:
There is a small movement on static. This is fairly normal and common for home poles, but I still find it annoying to have it shift at all during static. It isn't a continuous movement; it has a hard stop, but even that little centimeter of movement is enough to disrupt the feel.
The spin/static is easy, but it still requires a hex key. I prefer pins and Lupit's quick lock system as in the Lupit Pro, rather than hex keys.
The removal and reinstall is slow because both the top and bottom moves. Finding level takes a lot of time, and you have to nail it before tightening. This is part of it just being a portable home pole. I've just gotten spoiled by the Lupit Pro and their AVFAS quick install system.
Even if it's necessary, the cover plate being something I can notice, and the fact that I need two different sizes of hex keys to install or uninstall is annoying, especially since the hex keys are less commonly used (in the US). That said, I prefer security and safety first.
The middle pieces of the pole that aren't the tightening piece near the base, nor the top plate piece, can spin if you twist it. This is not much, but to reduce this, you have to somewhat "overtighten" the pole. Relying on a pole to be either static or spin is important, so this is probably my biggest complaint with this pole. Another point for the single piece Lupit Pro.
I hope this was helpful!
You can support this review and future content by using the link here for your purchase:
Lupit G2 Portable Home Pole Chome
If you still love your stainless steel, you can still purchase them here:
Lupit G2 Portable Home Pole Stainless Steel
Lupit Pro Stainless Steel Studio Pole
And, remember to claim your discount of 5% using the code: NINJA5 on your checkout.
Additional sources:
https://www.midcentralmedical.com/product-information/chrome-vs-stainless-steel/
https://www.bendplating.com/is-chrome-plating-or-stainless-steel-better/
https://hcsplating.com/base-materials/plating-on-stainless-steel/
https://www.sciencedirect.com/science/article/pii/S0022202X16326598
https://en.wikipedia.org/wiki/Stainless_steel
https://dermnetnz.org/topics/chrome-allergy/
https://www.hindawi.com/journals/drp/2012/749561/
https://ww3.arb.ca.gov/toxics/chrome/whatis.htm
https://en.wikipedia.org/wiki/Chromium
https://lupitpoleusa.com/index.php?route=product/product&product_id=311&tracking=9AkCkT6qUl6GxVNBvHqknqI6RCCPpE6RdRSxQ7eGTqDWuQJgMg5Z1oYLfdbehwCz
Video Review (redundant info, but more visual detail)
originally posted on youtube